Kung Hei Fat Choy!
=
Happy New Year!
2015 is the Year of the Goat!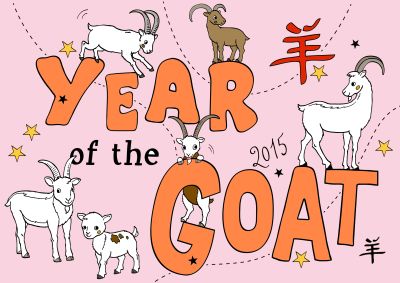 The new Chinese New Year starts on
19th February 2015
and finishes on
7th February 2016.
What Is Chinese New Year?




Chinese New Year is the most important of the Chinese holidays. It is a time of

celebration,

feasting with the family, fireworks and giving presents. It is a 15-day holiday, beginning on the first day of a new moon and ending with

the full moon on the day of the Lantern Festival.

The Chinese calendar is based on the lunar year, so the date of Chinese New Year changes every year.
Chinese New Year traditions
Different parts of China have very different traditions. These are the most typical:
Some days before the Chinese New Year, people will do a complete cleaning of the house to remove the old and welcome the new.

After the cleaning, people decorate the house to welcome the New Year. Most of the decorations are red.
The majority of Chinese people have New Year's Eve dinner at home, not at a restaurant. All the family have

dinner together. They usually eat fish.
They have fireworks displays.
At Chinese New Year parents, family and friends give money to children in red envelopes. The red colour symbolizes good luck.
MORE ABOUT CHINESE NEW YEAR